Procore Construction Software Alternatives and Comparison
Procore is a cloud-based construction management system that can handle everything from estimates and purchase orders to project tracking and inspections. It has a mobile-ready interface that makes it easy to connect managers and employees with customers and partners.
It is one of the leading construction management software on the market. However, that doesn't mean it's the perfect fit for your company specifically. For that reason, we've compiled a list of Procore alternatives, covering their features, pricing, and user reviews.
What is Construction Management Software?
Construction management is no simple task. To effectively manage a project, you must keep teams on the schedule, stay within budget, ensure quality, and maintain a safe work environment. Fortunately, there are several software applications - known as construction management software - that simplify all of these processes.
Construction Management Software allows you to:
Plan and manage projects from start to finish, integrate with your existing tools, and simplify your work.
Take your projects and client information with you wherever you are and resolve anything on the go.
Monitor project details in real-time combining client, project, team, and financial data.
How to select the most suitable Construction Management Platform?
Here's what to consider when choosing the right software for your company.
Features
Pricing
Scalability
User experience
Reliability and support
You can also take a look at public user reviews or ask for reference clients for a more detailed overview.
List of Procore competitors and alternatives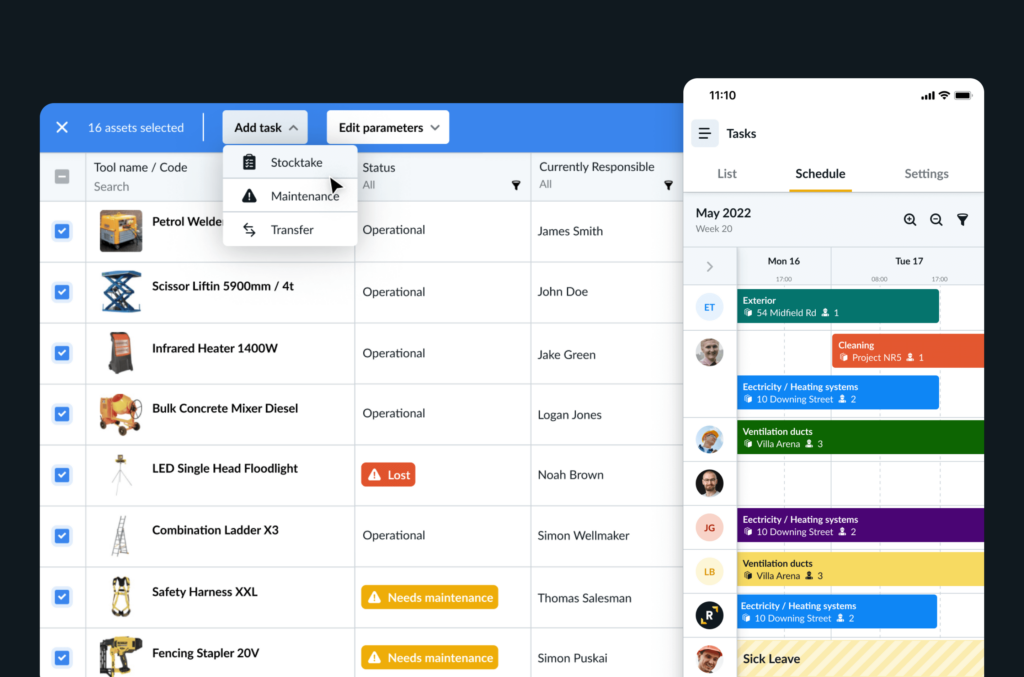 Remato is a construction management software that helps to:
Save time by automating administration
Earn more thanks to better awareness & accountability
Achieve stress-free collaboration for office & field crews
Deliver projects on schedule and budget, and stay on top of everything that's happening in your company wherever you go.
Pricing: Starting from £90/month
Free Trial available
Archdesk is an innovative management solution created for the construction and production industries. The system can mirror your company's structure and optimize the entire workflow, giving you full control over your business.
"There is no doubt in my mind that we wouldn't have grown as far as we have without Archdesk. Knowing my company has a solid structure and system in place, I have every confidence that our growth will continue and will be manageable."
Gary B., Director, 11-50 employees, used the software for 1-2 years
Pricing: on request
Planyard is designed to make construction accounting easy for construction contractors who build large-scale projects. Ditch the spreadsheets and ensure compliance by standardizing processes from bidding to contract management, subcontractor billing, and invoicing.
"When I came across Planyard, I knew that this was the piece of software that I had been looking for, for some time. I use cloud accounting software Xero and Quickbooks but they don't have specific construction-based costing tools. They have project management costing tools but they are quite basic and don't have the level of detail and functionality that construction companies need. Planyard solves this and it's made a massive difference to the service I can provide for my clients."
Paul H., Director - Management Accountant, 1-10 employees, used the software for 1-2 years
Pricing: From $24 project/month
Free Trial available
Jonas Construction Software has been providing industry-leading accounting, construction, and service management software for the past 30 years. Their fully-integrated solution provides all of the tools that you need to increase productivity and improve your bottom line.
"We are now doing more with less staff due to the efficiencies that Jonas has brought up related to time entry and document review utilizing Jonas Documents, now our managers can view invoices for jobs and work orders without having to dig thru large files."
Theodore C., V.P./CFO, 51-200 employees, used the software for 2+ years
Pricing: on request
Manage construction work on a single, easy-to-use software. Run efficiently, paperlessly, and with better insights on job performance.
"We love sharing this software and its great features with our construction clients. To my mind, there is no better job costing app on the market today for subcontractors and tradesmen in commercial construction."
Tonya S., Construction Accounting Specialist, used the software for 6-12 months
Pricing: From $68/mo
Your all-in-one construction platform to win work, connect project teams, build better and maximize profits.
"We purchased Corecon for two reasons: 1) It integrated with Quickbooks, and 2) It had over 90% of the project management features we were looking for. The wealth of reporting data that we are able to get from Corecon helps us with timely & accurate billing, scheduling, workload projections, and much more."
Reid A., Construction, used the software for 2+ years
Pricing: on request
Sage 100 Contractor, provides small to midsized contractors with access to critical, end-to-end business and project information, whether they are a general contractor, service or specialty contractor, or a home builder. Suitable for companies that have outgrown generic accounting software, the suite of applications encompass the entire construction cycle including accounting, estimating, project scheduling and management, job costing, and service management.
"We started in 1987 with The Master Builder; which was purchased by Intuit; which was purchased by Sage and became Sage 100 Contractor. So we have grown up with the great grampa of Sage 100. It has run our company for decades and we are very happy with it. As we grow, the program can grow. There is still a lot of the program's capability that we do not use, yet, but hope to."
Lex M., VP, 1-10 employees, used the software for 2+ years
Pricing: on request
Keep projects on track and drive business growth with easy-to-use cloud construction software that puts managers, supervisors, subcontractors, and customers on the same page.
"Spreadsheet-style screens that can be sorted and filtered. Generic Inquiry (report writer) allows pulling any data field from the database onto a report. Slick user interface and ease of customization. Help files are genuinely helpful. Detailed paper trail helps the user to understand what the system did by breaking down transactions into small bites."
Daniel K, Project Manager, Mid-Market (51-1000 emp.) via G2.
Pricing: on request
AccuBuild provides fully integrated, flexible Construction Business Management Software to help contractors gain a competitive advantage and confidently make faster, better decisions.
"AccuBuild has nice reports and is pretty user-friendly once you get the hang of it. I like that I can "drill down" on numbers in certain reports and that I can also resort information, again depending on the module I'm in and what I am doing."
Gina A, Controller, Small-Business (50 or fewer emp.) via G2.
Pricing: on request
Gain peace of mind on your projects with the document and field management solution built for trade contractors. Take the guesswork out of your projects so you can stay protected and competitive.
"It manages and tracks almost everything I need to run a project on schedule and maintain cost."
Jag S, Project Manager, Small-Business (50 or fewer emp.) via G2.
Pricing: on request
Still unsure which Procore alternative to go with?
Whether you are looking for specific features or one that falls within your budget, we hope that our list of Procore alternatives was able to help you find more suitable options for your operations.
Still unsure which platform to go with? Check out our extensive list of Best Construction ERP Software, where we listed 13 extensive tools – each with its own pros.