Construction safety in 2022 – In-Depth Statistics
Construction safety is becoming one of the most important topics in the industry. OSHA issued 22,651 citations in 2021, resulting in over $81 million in fines throughout the construction industry—more than every other private sector industry combined.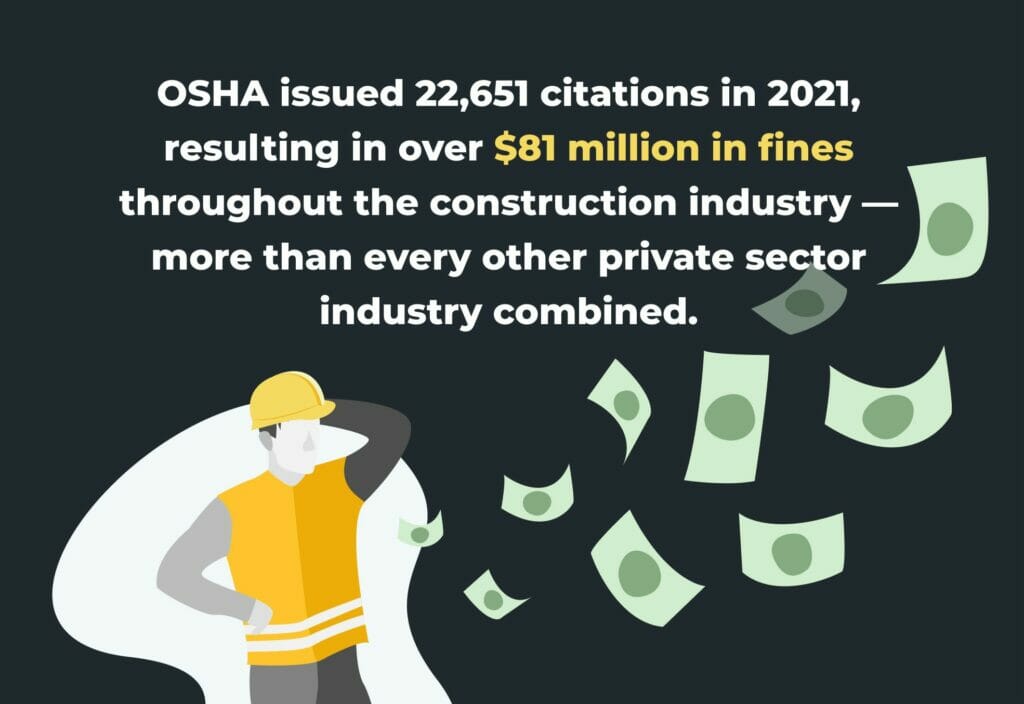 The first step to improving construction safety is understanding what causes these citations and how injuries and accidents happen, then implementing best practices to prevent incidents.
We'll discuss the most recent safety statistics in the industry, how the most common injuries happen, how to prevent them, and how to improve the safety of your construction sites.
10 statistics-based facts about construction industry injuries
Between 2016 and 2020, there were 4,980 fatal construction injuries in the US. There were 3,408 fatal work injuries throughout the EU in 2019—over 20% took place in the construction industry.
To demonstrate the current state of construction and the importance of improving on-site safety, we've compiled 10 construction safety statistics that every company and contractor should keep in mind:
According to a recent BLS report, there were 4,764 fatal injuries throughout every industry in 2020—and over 1,000 of them are attributed to the construction field.
OSHA found that the construction industry accounted for almost 20% of fatal injuries in the US—5,333 workers had a fatal accident on the job in 2019, and 1,061 of those were construction workers.
A 2020/2021 Labour Force Survey found that 2,870 out of every 100,000 construction workers suffered non-fatal injuries on the job in the UK.
According to the National Safety Council, the construction industry had the most preventable fatal injuries in both 2019 and 2020. There were also 250,000 medically consulted injuries in those two years.
59.5% of work-related non-fatal accidents and 17.3% of fatal injuries occur on construction sites in the EU.
Midwest EPI found that fatal construction injuries in the US cost $5 billion every year, citing lost income, reduced quality of life, pain and suffering lawsuits, and lost production as the top costs.
Even though construction companies can save $4 to $6 per dollar spent on safety training, injuries account for 6–9% of project costs while safety programs account for 2.5%.
BLS compared fatal injuries in the construction industry between the US and the EU, which make up 20.9% and 26.5% of work-related deaths, respectively.
According to HSE, approximately a quarter of fatal injuries in 2021 and 2022 happened in the construction sector.
Eurostat found that the construction industry in the EU had the most fatal accidents in 2019 (approx. 22%) and the third most non-fatal accidents (approximately 12%).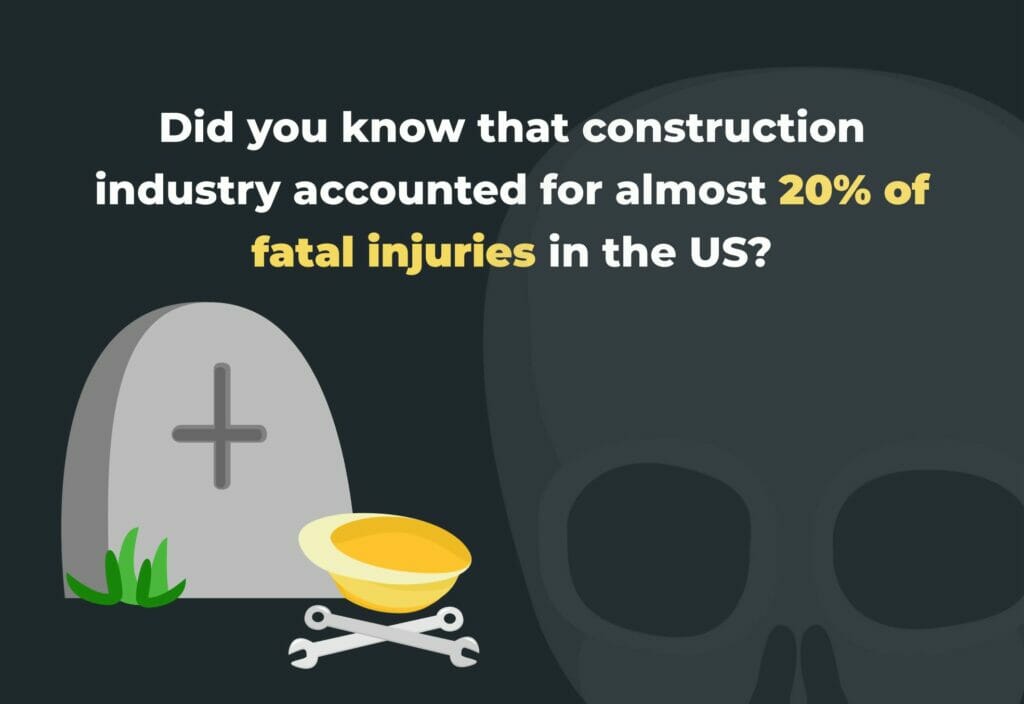 5 statistically most common injuries in the construction industry
Despite widespread industry efforts to increase safety, the 10 statistics above shows that things still aren't looking great. In 2020, over 20% of fatal work-related injuries were attributed to the construction industry—not to mention the hundreds of thousands of non-fatal injuries.
But what's causing these injuries?
According to OSHA, the four most common construction injuries occur from falls, being struck by an object, getting caught in between an object, and electrocution. We want to add a fifth to this list: Vehicle accidents, which account for hundreds of construction worker fatalities.
1. Falls
Falls, slips, and trips all fall under OSHA's 1926501 standard. Most construction injuries in this category happen from falls due to uneven surfaces, the improper use of equipment (especially ladders), and the lack of fall protection equipment.
In 2021, OSHA handed out 5,473 citations for construction companies without proper fall protection and another 2,101 citations for those using ladders unsafely. The fines for those citations were over $34 million.
You can help prevent fall injuries by:
Keeping the worksite clean and well lit
Using appropriate fall protection equipment
Training workers to follow ladder safety, including mounting and dismounting regulations
2. Being struck by objects
Whether it's being struck by falling materials, a machine, or anything else, OSHA has various regulations in place to help protect workers from these preventable injuries. Most "struck by" injuries happen when construction workers don't wear the required personal protective equipment (PPE).
For example, last year OSHA handed out 1,495 citations for lack of proper eye and face protection and 843 citations for lack of proper head protection. These citations resulted in fines of over $7 million for construction companies.
You can help prevent these injuries by:
Securing tools and materials so they can't fall easily
Stacking materials in a way that avoids sliding objects
Avoiding the use of machinery or vehicles without a clear line of sight
3. Electrocution
Electrocution and shocks aren't uncommon in the construction industry. They can lead to burns, cardiac arrest, nerve damage, and death.
OSHA has multiple standards that aim to help keep workers safe from electrocution, including standard 19100147 (lockout/tagout), which resulted in 48 citations in 2021, amounting to almost $300,000 in fines. OSHA also gave out 205 citations regarding wiring methods and components, resulting in fines totalling approximately $332,000.
You can help prevent shock and electrocution injuries by:
Providing and using required PPE
Using lockout/tagout procedures
Training employees to stay away from energised machines and equipment
4. Getting caught between objects
Another common cause of construction injuries is workers getting caught in between materials, vehicles, etc. The best prevention method is following OSHA's safety training and education and general safety and health provisions standards.
Failure to follow those regulations resulted in 865 and 396 citations in 2021, respectively, resulting in over $6.5 million in fines.
You can also help prevent these injuries by:
Avoiding wearing loose clothing or items that could get caught in moving parts
Staying focused and aware of your surroundings
Never placing yourself between equipment and immovable objects
5. Vehicle accidents
While not as common as OSHA's "fatal four," incidents like collisions and rollovers, backover accidents, cargo spills, and pinnings are serious hazards on construction sites.
OSHA standard 1910178 regarding powered industrial trucks made the top 10 most frequently cited regulations. The organization gave out 162 citations amounting to almost $400,000 in fines.
In 2021, OSHA only handed out 10 citations for its more general "motor vehicles" standard—eight of those were in the construction industry, totalling almost $60,000 in fines.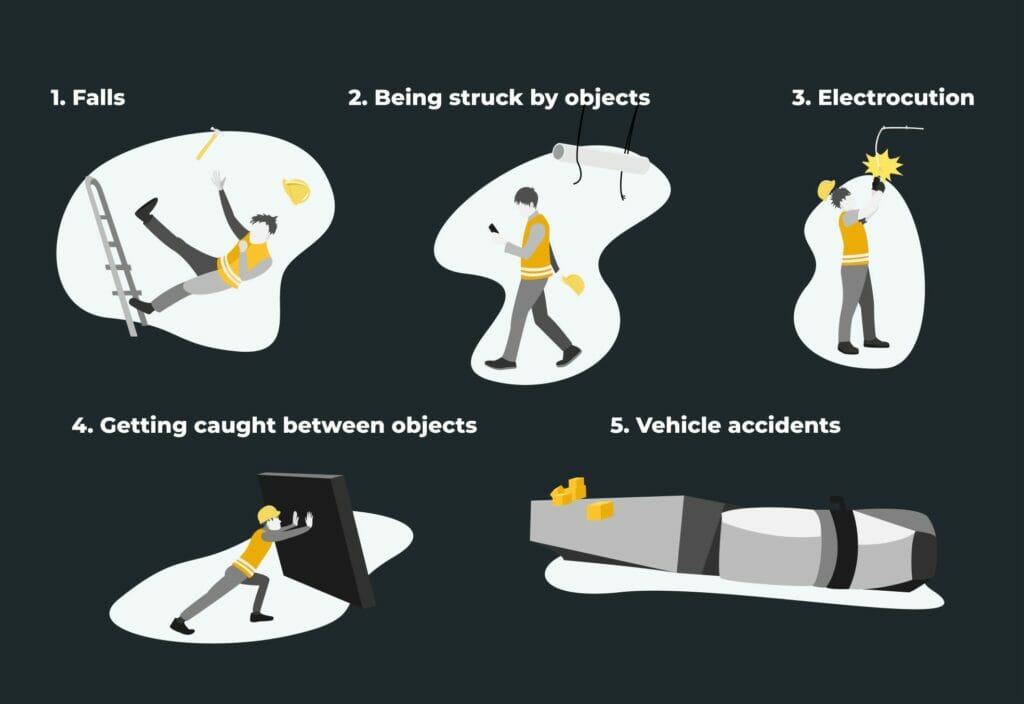 7 tips on how to improve construction safety
Speaking of OSHA's 10 most cited standards—what can construction companies and workers do to improve safety and avoid fines?
Following these seven tips will help companies, employees, and contractors stay safe on construction sites, reducing injuries and lowering the chances of receiving OSHA citations:
1. Fall protection
Duty to have fall protection is OSHA's most cited standard, and the lack thereof is the leading cause of fatalities in the industry.
What workers can do
Familiarize themselves with any potential fall hazards
Ensure not to work without fall protection equipment
Inspect any fall protection equipment before each use
What employers can do
Provide fall protection systems everywhere with unprotected edges
Implement guard rails in every area with a two-metre or higher drop
2. Correct ladder use
Improper ladder use, resulting in falls, is the third most common OSHA citation.
What workers can do
Keep two feet and at least one hand on the ladder
Secure ladders from the top and bottom
Don't load ladders past their rated capacity
What employers can do
Inspect every ladder every day
Tag out defective equipment
Ensure all ladders conform to OSHA standards
3. Scaffold safety
Scaffolding standard 1926451 is another commonly cited standard, resulting in 2,074 citations in 2021.
What workers can do
Wear hard hats and non-slip boots
Avoid scaffolding when there's ice, mud, or water
Never exceed the scaffolding's maximum load
What employers can do
Ensure all scaffolding is designed and erected by a competent person
Have that person inspect the scaffolding each day
Implement guardrails and toeboards
4. Eye and face protection
The eye and face protection standard is commonly cited, resulting in injuries from flying objects, vapours, gasses, chemicals, etc.
What workers can do
Ensure all PPE fits snugly
Inspect their PPE daily
Keep their PPE clean and in good shape
What employers can do
Issue proper eye and face protection to every worker
Provide PPE that can be worn over prescription glasses
5. Head protection
Proper head protection is essential for shielding workers from falling objects and electrical shocks.
What workers can do
Wear head protection at all times
Inspect hard hats regularly
Ensure a snug fit
What employers can do
Provide head protection that meets ANSI standards
Immediately replace PPE after an incident
5. Training and education
Fall protection training citations resulted in 1,688 citations and almost $3 million in fines last year.
What workers can do
Practice procedures to prevent falls
Learn to recognise safety hazards
What employers can do
Provide fall protection training to all workers
Maintain documentation of that training
6. Safety and health provisions
Safety and health regulation violations brought 865 citations to the industry in 2021, resulting in $3.4 million in fines.
What workers can do
Understand what protections are in place
Ask for training regarding job duties and PPE
Don't operate equipment without the proper training
What employers can do
Implement safety programs to prevent accidents
Regularly inspect the site, materials, and equipment
Provide training and PPE to all workers
Communication is the key to a safe work environment
Everyone involved in a project should be in constant communication with each other. With different tasks happening all over the construction site, maintaining communication is crucial to ensure that everyone knows what's happening around them. This allows workers to give each other space to safely perform their duties while staying out of areas with potential hazards.
How construction management software can help
Construction management software doesn't just help improve your productivity and efficiency—it can help you and your team stay safe, too.
Book your free demo of Remato today—the all-in-one platform designed to keep you and your team safe and productive on the jobsite.