Best Construction ERP Software (2022 Edition)
Looking for the best Construction ERP Software for your business? You're in luck! We've made the task easier and combined 13 ERP solutions into one comprehensive list.
Check out the tools' feature set, pricing, and reviews – and find a solution fit for your construction company.
What is Construction ERP Software?
Enterprise Resource Planning (ERP) software is a business solution that offers a variety of integrated solutions that support all aspects of the construction business from planning, project control, to cost and revenue estimation.
If you're in the construction industry you understand the pressures surrounding a tight budget and a fixed deadline. Yet, unforeseen situations often arise, sending plans out the window and requiring workers to set a new schedule and new margins for the project.
ERP software helps you tackle those problems and bring order to chaos so that all users – from the project manager to the construction worker can do their best work.
Features of ERP Software
Construction ERP software integrates disparate software systems into one comprehensive solution, so construction managers can have tools to effectively manage the full lifecycle of a project, including:
Cost estimation

Sending offers and bid proposals
Planning and scheduling
Workforce management
Time management
GPS attendance tracking
Site photo gallery
Tools and equipment management
Tracking materials consumption
Reporting
Document management
Performance monitoring
Real-time budget overview
The connectivity of these features is essential. As unexpected situations arise, the effects of having non-integrated technologies and software solutions become ever more detrimental to the construction project.
When to switch to an ERP system?
Most businesses start by using spreadsheets or standalone tools. With a small team and few projects folders and spreadsheets can be enough.
However, as your company grows and your needs change, you'll see that this process becomes less and less efficient. If it takes too much time and manual work, you'll start losing focus of what matters and the quality of your work suffers. That's when ERP software will come in handy.
Here are the main reasons why companies like Timbeco, Kone, Maru, and Montreco have switched to dedicated ERP software:
Poor and siloed communication
Lack of structure
Low staff performance and discipline
Inadequate risk and time management
Unrealistic expectations
Unclear scope of a project
Bad forecasting
Scheduling conflicts
Delayed cash flow
Resource deprivation
Supply issues
Labour shortages
Lost and stolen tools
How to choose Construction ERP Software?
There is a wide range of Construction ERP Software solutions available on the market.
Of course, the main consideration when deciding which platform to use should be the specific needs, circumstances, and objectives of your business. It may take some time to determine which solution is the best match for your company. For that reason, it may be wise to test out several platforms on a trial basis before committing to one option in particular.
You may want to ask yourself what you want out of the software:
What features are essential to your business' success?
What can you do without?
Is it intuitive and user-friendly?
How much time and effort does it take to set up?
What do reviews say?
How does the pricing work?
The more you know before you choose the right software for your team, the better.
With the right ERP solution in hand, you'll no doubt see favourable results right away. You'll spend less time on manual repetitive work, your team is more organized, and your clients will enjoy the smooth process. You will witness improvements in performance and discipline. Less tools will be getting lost or stolen. You will have a big-picture overview of everything going on in your company.
Best ERP Software for construction companies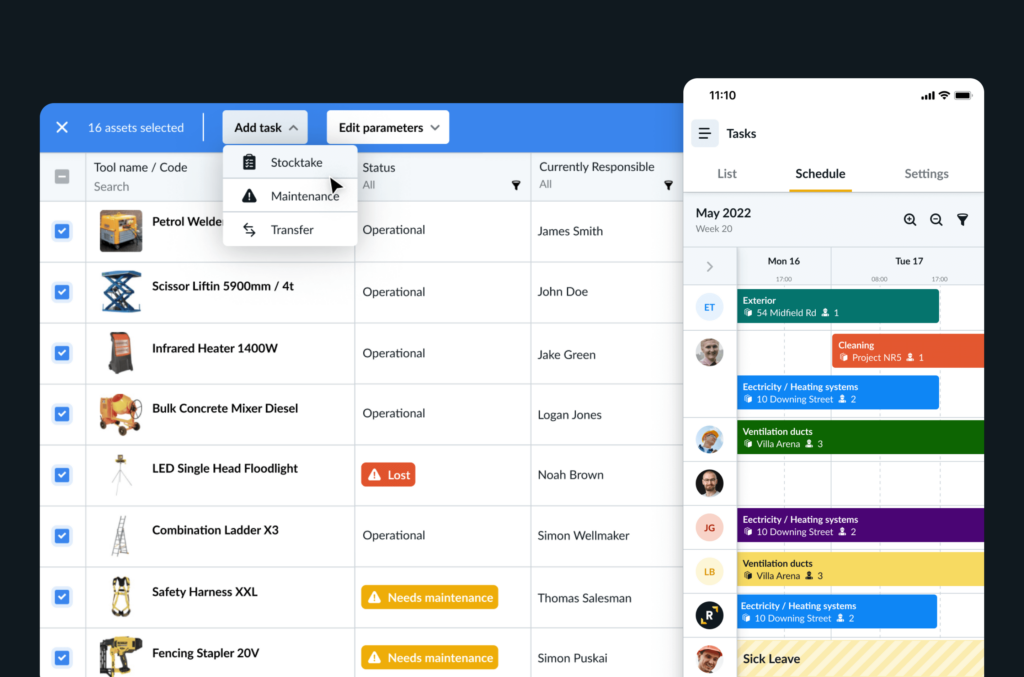 Remato is a construction management software that helps to:
Save time by automating administration
Earn more thanks to better awareness and accountability
Achieve stress-free collaboration for office and field crews
Deliver projects on schedule and budget, and stay on top of everything that's happening in your company wherever you go.
Pricing: Starting from £90/month
Free Trial available
Procore breaks down communication silos from precon to closeout so you can build with less risk and better profits.
"Submittal and RFI tools are great. In general, filtering options can always get better and more opportunities in the report tools but being able to customize and track paperwork is awesome. Very easy to learn and work through."
Dylan A, Office Engineer, Mid-Market (51-1000 emp.) via G2.
Pricing: on request
Free Trial available
Sage Construction project center integrates with Sage 300 Construction to provide a seamless, secure, central online collaboration hub where the building team can collect, share, distribute, track, and take action on all project-related information. The results are smoother running projects that end on time, on budget, and with less risk.
"It allows end-to-end project management in one place. You can see all the emails and transactions, the documents and updates, check the approvals, and even get to know who approved in a single tool."
Shubhangi S, Academic development assistant, Small-Business (50 or fewer emp.) via G2.
Pricing: on request
Keep projects on track and drive business growth with easy-to-use cloud construction software that puts managers, supervisors, subcontractors, and customers on the same page.
"Spreadsheet-style screens that can be sorted and filtered. Generic Inquiry (report writer) allows pulling any data field from the database onto a report. Slick user interface and ease of customization. Help files are genuinely helpful. Detailed paper trail helps the user to understand what the system did by breaking down transactions into small bites."
Daniel K, Project Manager, Mid-Market (51-1000 emp.) via G2.
Pricing: on request
AccuBuild provides fully integrated, flexible Construction Business Management Software to help contractors gain a competitive advantage and confidently make faster, better decisions.
"AccuBuild has nice reports and is pretty user-friendly once you get the hang of it. I like that I can "drill down" on numbers in certain reports and that I can also resort information, again depending on the module I'm in and what I am doing."
Gina A, Controller, Small-Business (50 or fewer emp.) via G2.
Pricing: on request
PlanSwift helps to manage projects large and small with accurate and timely calculations. Bid more jobs, manage more efficiently and grow your business.
"Planswift is generally a good program with great organization. I often pull dozens of drawings from a bidset, and it can be difficult to keep them all on track. Folders, subfolders, renaming, easy moving/deleting is all helpful. A small bonus as well--a wide range of colors to keep my takeoff easy on the eyes. Hot pink is useful to no one."
Pricing: From $1,595 the first year, after that $300.00 license/year
Viewpoint brings your extended team and supply chain together. Designed for true project collaboration, Viewpoint solutions help contractors of any size build better projects.
"I liked the audit system and the fact you can send information via links rather than downloads and attachments."
James D, Design Manager, Enterprise (> 1000 emp.) via G2.
Pricing: on request
Gain peace of mind on your projects with the document and field management solution built for trade contractors. Take the guesswork out of your projects so you can stay protected and competitive.
"It manages and tracks almost everything I need to run a project on schedule and maintain cost."
Jag S, Project Manager, Small-Business (50 or fewer emp.) via G2.
Pricing: on request
COINS provides commercial and engineering contractors with an integrated construction software platform to manage the project lifecycle.
"COINS Construction Cloud documentation ability helps the manager to easily manage a large group of project documents and offers the user full control of complex development projects."
Wayne l, Site Engineer, Enterprise (> 1000 emp.) via G2.
Pricing: on request
Spruce unifies all your business operations - reducing costly errors and manual mistakes - giving you more time to focus on growing your business.
Pricing: on request
ProEst construction estimating software is a powerful, cloud-based cost estimating solution that lets you create more competitive bids in about half the time.
"ProEst gives you the ability to create estimates right from a takeoff. Their takeoff tool lets you upload drawings directly to the cloud-based platform, begin doing take-offs for the project, and then automatically price them using historical input data. The best part is: you can upload your quantities and line items directly into a report for unique deliverables."
Jonathan S, Preconstruction Manager, Small-Business (50 or fewer emp.) via G2.
Pricing: on request
Jonas provides contractors the ability to identify risky margins so they can make better business decisions & maximize profit.
"Jonas is a great accounting package overall. It handles job costing, estimates, and payroll functions very well."
Brian P, Controller, Mid-Market (51-1000 emp.) via G2.
Pricing: on request
HCSS HeavyJob connects your teams with a clear path of communication to ensure projects start on time, run efficiently, and are on budget.
"I like that HCSS has different functions within our payment process. We can create a diary showing what we've worked on each day, and we can submit that time to each particular job. Reporting functions allow us to generate weekly reports or check to see what has been submitted to each job across the company."
Richard R, Data-prep Technician, Mid-Market (51-1000 emp.) via G2.
Pricing: From $180 user/month